MSB Storage & Engineering
1, Jalan Setia 4/5,
Taman Setia Indah,
81100 Johor Bahru,
Johor, Malaysia.

+607-3532626

+607-3578666

MSB Storage & Engineering
Puchong
68-1, Jalan Suria 1,
Pusat Perniagaan Suria,
Puchong Gateway,
47100 Puchong,
Selangor, Malaysia.
+603-89381750
+603-89381750
Mr Lim (Sales Manager)
+6012-7387516
+6016-7717516
Mr Goh (Sales Manager)
+6016-7713101
Drive in / Drive Through Racking System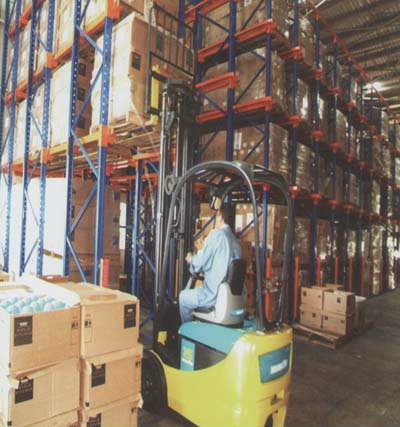 Drive-In Racking System provide maximum storage capacity using minimum amount of space. Working on the Principle of LIFO (Last in First Out), it is particularly used to store very large quantities of the same product.

This system consists of continuos rows of racking with on aisle in between. Driving into the racks, loding/unloading is facilitated by mean of Counter Balabces or Reach Trucks.

Picking & Replenishment in Drive In is done from one side only; while in case of Drive Through, the same can be done from both sides of the racking. Picking & Replenishment can be don simultaneously in case of Dreve Through Racking.

The technical feature of the Drive-In storage systems is thst it requires considerable travsverdal stability. SAFETY is of paramount importance when it cames to Drive In/Drive Through. MSB has both profile and Design Engineering capability for safe use of the racking system & minimize the potential of accidents.

Features

Limited order Picking
Limited Stock Rotation (<30% selectivety)
Average Floor Area Utilization
Ideal Product Protection
High Storage Density
This system is appropriate for manufacturers of products produced in batch or in warehouse operations where there are limited product types adn pallets cannot be safely block stacked.